The two leading stars, Jennifer Anniston and Owen Wilson, can fool you into thinking the movie would be full comedy. I think it was an instant impression seeing the poster, which I think it's probably too cheerful for the movie. Sure, seeing Marley the dog uncontrollable can make you giggle. Well, that is not all. Few tears is one of the effect after watching the whole of the story.
The movie is based on a novel
Marley and Me: Life and Love with the World's Worst Dog,
a
New York Times
bestselling autobiographical book by journalist John Grogan, published in 2005.
Plot
After their wedding, newspaper writers John and Jennifer Grogan move to Florida. In an attempt to stall Jennifer's "biological clock", John gives her a puppy. While the puppy Marley grows into a 100 pound dog, he loses none of his puppy energy or rambunctiousness. Meanwhile, Marley gains no self-discipline. Marley's antics give John rich material for his newspaper column. As the Grogans mature and have children of their own, Marley continues to test everyone's patience by acting like the world's most impulsive dog.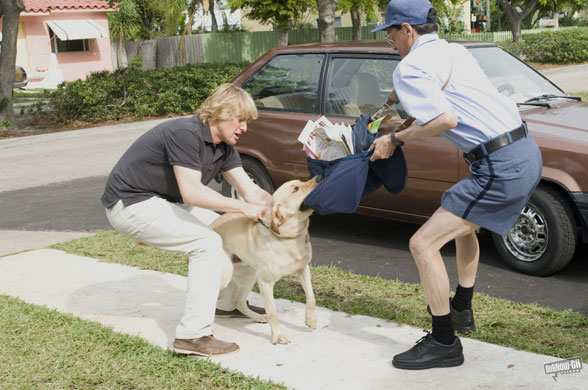 Inspiration Note
I think one of the purpose Marley was there in the family was keeping the family together. He's there first as the test, which he almost being put away. But in the end, Marley actually helps the family. It's seems the sincerity of keeping him and accepting him has made him love the keeper back. There's something pure and honest in its action. Which made the movie worth the watch.
Here is the author comments as written in wikipedia : In a discussion on his website devoted to the book, Grogan looks back on his family's time with Marley, and the lessons learned, and concludes that: "[C]ommitment matters. That 'in good times and bad, in sickness and in health' really means something. We didn't give up on Marley when it would have been easy to, and in the end he came through and proved himself a great and memorable pet."